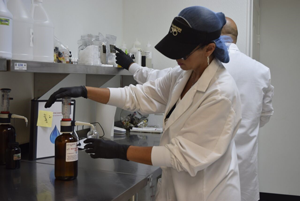 At Flavor Vapors, providing our clients with the best quality e-liquids on the market is our priority. In our efforts to accomplish that task, not only do our e-liquids have the best quality ingredients and savory recipes, but we mix all of our products in our lab. The Flavor Vapors lab is a clean room environment which eliminates microbial and particulate contamination. Our mixers are also required to wear lab coats, hair nets, gloves, shoe covers, and goggles to prevent any external contamination of your e-liquid products as well as insuring the safety of our employees. Each and every bottle of e-liquid purchased from Flavor Vapors is formulated and mixed under the most stringent of food service regulations. We take great pride in providing our customers (and yours) with standards far and above any regulations that may be passed by the FDA down the road.
After the mixing process, all of our e-liquids are bottled, labeled, and sealed in our lab. Our bottling machinery helps to continue the process of eliminating the threats of contamination from the manufacturing process. Not only are our bottles always filled to their quantity specifications, but the speed of our pours allow less time for airborne contaminants to enter into the bottles during the bottling process. Finally, our e-liquid bottles are wrapped and sealed to prevent tampering and provide resistance to access to children.
The pride in the quality of our e-liquids also comes from the fact that we use the highest quality ingredients in the formulation of our flavors. Our e-liquids are formulated using USP certified, kosher vegetable glycerin and USP certified propylene glycol. All of our recipes use GRAS (generally recognized as safe by the Food and Drug Administration) ingredients, including artificial and natural flavoring. Any nicotine added to our e-liquids is done using U.S. pharmaceutical-grade nicotine. We take pride in the fact that we do not add any artificial dyes, artificial colors, alcohol or water into any of our e-liquid bottles.
Our e-liquids are mixed in a professional manner. We are ahead of the curve of any regulations that may come to the industry in the future. Flavor Vapors allows retail outlets the ability to concentrate on their number one asset, their customers, rather than worrying about the process of mixing, pouring, and bottling their e-liquid products. Our private labeling services enable vape stores and others to submit their own existing flavor lines and recipes or create a completely new brand and relieve the expense and hassle of production.
We have the tools to make your store the talk of the town, and we're here to make that happen. We have the highest quality e-liquids on the market and we have evidence that your customers will keep coming back for more. All of our gourmet e-liquid flavors are hand-mixed and sampled until perfection. We know that you'll be more than satisfied with the quality of our e-liquids and the taste of our recipes. Sign up for a wholesale account today! Let's begin that journey! We look forward to doing business with you.